YOGA & PILATES INSTRUCTOR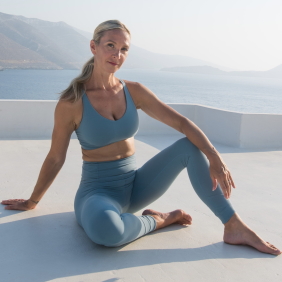 Experience
Sue White, co-creator of Shine Online TV, is a teacher of movement. She has performed, taught classes, and presented locally and internationally. Most notably, she was honored to present both Buti Yoga and Sleek Technique at the 2018 Rimini Wellness Convention in Rimini, Italy, as well lead Poornima University (Jaipur, India) student body in 2020's International Yoga Day Celebration.
Certifications | Education
Sue is a former professional dancer and some of her certifications and education include: 500 hour E-RYT, YACEP Yoga Teacher Trainer, International presenter, Sleek Technique® Principle Teacher Trainer, former Buti® Yoga Master Teacher Trainer.
Area of Expertise
Leading a full active lifestyle from a young age, from ski racing, to competitive dance, to horseback show jumping, Sue is no stranger to injury. With injury prevention in mind, a major focus of her classes is safety and how to progressively move the body through a complete warm up to avoid injury from the get go. Sue is a perpetual mover, has a passion for connection, and loves bringing the euphoric feeling of yoga and dance to everyone!
Pinch of Personality
My nickname is "the cat". I love living near the ocean but you won't ever catch me in it.